Joint Public Private Economic Mission to Fiji arrived at Suva on 26th and 27th of February. 19 private enterprises and organizations from Japan participated in the meeting and local events with government officials and companies of Fiji.The Mission was led by Hon. Norihiro Nakayama, Parliamentary Vice Minister for Foreign Affairs of Japan. Personnel of JETRO and JICA were also invited to join. PIC played a key role of this mission by coordinating participants of private companies and brought successful results as intended.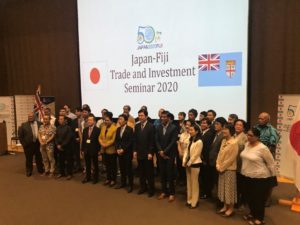 In the Leader's Declaration of "PALM8" (The Eighth Pacific Islands Leaders Meeting) held in May 2018, the leaders affirmed that they would make continuous efforts to shape partnership between Japan and Pacific Island Countries by promoting trade, investment and tourism. Based on that declaration, this Mission marks another important milestone in the growing trade and economic relations between Fiji and Japan through frank exchange of opinions among private and governmental participants and site inspection of the local enterprises. It has been a great opportunity for the participants to consider the scheme which leads to promotion of exchange and expansion of trade & investment between Fiji and Japan.
The Preliminary Seminar was held for Joint Public Private Economic Mission to Fiji and offered an opportunity for participants from Japanese Company to deepen their understandings about Fiji, such as potentiality of trade and investment and opportunities for investment and loan.
In the meantime, based on the requirements of the participants, PIC provided initial support in making appointment with local counterparts as the core of the mission, which is to focus mainly on individual meetings.
This Mission involved a series of events including Reception hosted by the government of Fiji and Japan, Fiji-Japan Trade and Investment Seminar. In the Seminar, there were presentations by the government officials and private sectors of both countries as well as discussions, with a comment from participant, that offered excellent opportunity for frank exchange of opinions. Mr. Saito, Director of PIC, Ms. Psarad of Ministry of Industry, Trade & Tourism of Fiji, and Mr.Zukoshi of Fijiana Cacao participated as panelists in the discussion.
HP of MOFA: https://www.mofa.go.jp/mofaj/a_o/ocn/page3_002821.html
The outline of the schedule of the mission is given below.
① 26th February (Wed) PM: Reception by Ministry of Industry, Trade & Tourism of Fiji
② 27th February (Thu)AM/PM: Fiji-Japan Trade and Investmen Seminar
Main Guests:(Fiji) Hon. Parveen Kumar, Minister for Employment, Productivity and Industrial
Relations and other Governmental officials
(Japan) Hon. Norihiro Nakayama, Parliamentary Vice Minister for Foreign Affairs
of Japan and others including 19 Japanese companies
③ 27th February (Thu)PM: Reception by Embassy of Japan in Republic of Fiji
④ Individual meetings were scheduled before, during and after the mission.