On April 11th, three female youth leaders from Micronesia countries visited PIC and had a lively exchange of views. They are visiting Japan as a port of "Youth Leader Invitation Program" organized by The Association for Promotion of International Cooperation (APIC). They are Ms. Joleen Ngoriakl from Repuglic of Palau, Ms. Milañ Loeak from Republic of the Marshall Islands and Ms.Teresita Laarwon from Federated States of Micronesia.
During their stay in Japan, they have learned about human resource development for younger generation, gender matters and solution to environmental challenges, while they have experienced Japanese culture.
Of all these learnings, they showed high interest in PIC which supports sustainable economic development of Pacific Island Countries. They tried to get the picture of ongoing PIC's various efforts and engagements for Pacific Island Countries. Especially, they proactively expressed their views over the crucial issue for which PIC and the three countries can work closely in the future.PIC explained the importance of exchange through tourism industry, with continuous focus on trade and investment invitations. To this explanation, meanwhile, they made remarks that we should not focus only on business matters as human interaction is very important because it offers more possibilities through mutual understanding of the countries.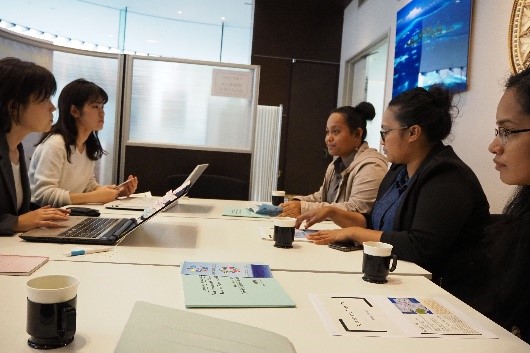 (From right:Ms. Milañ Loeak、Ms. Joleen Ngoriakl、Ms. Teresita Laarwon)