PIC delivers stories related to business of Pacific islands and japan.
The first story is an interview with Ms. Chinatsu NISHIYAMA who launched her brand, Genèse*, of which main product is coffee from Papua New Guinea. (Interview was conducted in 2019.)
*'Genèse' is a French word meaning Genesis.
Papua New Guinea (PNG) coffee originates from Blue Mountain Coffee that was brought in from Jamaica.
Thanks to the great rainforest environment and mineral-rich and fertile volcanic soil, the environment of PNG is suitable for coffee cultivation. While PNG's high-quality coffee is valued in Europe, it is not well known in Japan. We interviewed Ms. Nishiyama who has participated in events at major department stores and collaborated with bakeries since its establishment in 2019. The below is the story about her encounters with PNG and the uniqueness of PNG coffee.
Thank you for your time today. Genèse mainly sells PNG coffee. Could you tell us about the characteristics of Genèse and PNG coffee?
My brand, Genèse coffee, comes from the Eastern Highlands Province of Papua New Guinea. Coffee beans cultivated without pesticides are carefully hand-picked, sun-dried, and refined in clean equipment on a farm that uses trees for a shade, making the production environment close to wild nature.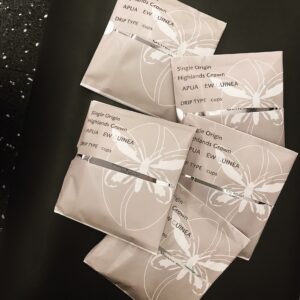 These raw beans arrived in Japan with the great efforts of Mr. IHARA Nobuchika, who is the Honorary Consul of Papua New Guinea and an importer. We roast these raw beans domestically with the original recipe. For roasting, we use city roast and full city roast methods that can make the most of the characteristics of the beans.
The characteristics of Genèse coffee are the aroma reminiscent of fresh forest fruits, the sweet and rich texture, and the aftertaste. We are proud that the high-quality mouthfeel with a soft acidity is unique and enriches the drinker's heart.
Currently, in addition to roasted coffee beans, we also sell drip coffee and latte base with PNG vanilla and sugar beet. Both products have been developed so that people can easily enjoy PNG coffee as a daily drink. The brand logo is designed based on the motif of Queen Alexandra's Birdwing, the world's largest butterfly, which is said to live only in Eastern Oro, PNG.
What do you do at Genèse?
While collaborating with people working in various fields of business, I'm independently involved in quality control, product development, and sales promotion in principle. When it comes to quality, I have a belief that no matter how the situation changes, the quality of the coffee should not be lowered.
At first glance, the task of obtaining and roasting raw beans that came by sea may seem like a simple task, but in reality, it is not. Since Japanese people are very conscious about the shape and color of beans, it takes time to get locals to understand such needs of Japanese, and sometimes we have difficulties of managing the arrival of raw beans from PNG and arranging processing schedule. Occasionally, beans even do not come from PNG. However, rushing and forcing the production of coffee is not ideal because customers would sense that we sell temporary product. I just started realizing that taking time slowly and peacefully can make unique PNG fruity coffee, and I believe expressing such cultural feature is a part of our principal.
In sales promotion, I make full use of my experience and intuition as a photographer to make more people interested in Genèse coffee. Coffee reaches its peak flavor one week after roasting, so we are currently accepting made-to-order only for coffee beans. While retaining the form of ordering products via Facebook from the beginning, we plan to post photos of the nature in PNG with the graphic arrangement of Genèse on our website and Instagram pages.
Personally, I value face-to-face communication in addition to the convenient online sales promotion. When we participated in PIC's "Pacific Marche" at Pacific Culture Arts Festival this year, we displayed Nishijin-Ori accessories made in collaboration with a cloth artist. What I feel the best part of this work is the moment when a business idea is born by combining my own aesthetic sense with the sense and technology of people who are active in various fields.
How did you come to know about PNG?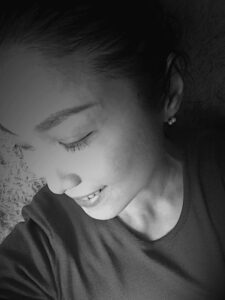 When I did a volunteer photoshoot at the launch ceremony of a book, I talked to the PNG ambassador who was a guest at the time, and then I was involved in a party event at the PNG embassy and a portrait shooting of the ambassador. I was strongly attracted to the taste of coffee served as well as colorful, simple, and nostalgic package designs of coffee cans displayed there. I thought of importing locally roasted products at first, but the careful consideration after meetings with trading businesses related to PNG made me shape the brand concept and brought me where I am now.
(Photo: Ms.Nishiyama)
Please tell me about the difficulties and challenges you face in the PNG coffee business.
I learned it is the most important that the branding which can be done by marketing and packaging, makes the products tell customers what they can offer.
It is my mission and passion to continue to deliver this coffee to everyone by making full use of my photographic and coordination skills that I have practiced so far.
Still, the biggest challenge is to get organic certification. The difficulty involves the communication with the locals, yet it encouraged me to deepen my understanding of PNG and my work at Genese. Another issue is pricing. Even if you want to popularize full-fledged single-origin coffee, there are always dilemmas such as high transportation costs, limited scale of the business, and my own physical strength. It would be a lie If I say I do not have any anxiety, but I would like to continue to offer reliable products as much as possible.
Could you tell us your future prospects and expectations for PIC?
The fundamental principal of this brand comes from my passion to enrich people's daily lives with familiar things. In the future, I hope to offer products such as cups and souvenir packages that are closely related to people's daily lives.
Also, I would like to be involved in cultural exchanges at commercial facilities. Coffee is the second largest trade product in the world, that means, it is a common beverage that has been and will continue to be a part of people's lives around the world. In an era when a cup of coffee is sold for 100 yen everywhere in the city, I would like to propose that this Genese coffee can easily enrich consumers' daily lives. We will continue to provide crops grown in PNG nature, including coffee in even higher quality.
PIC cares about a private business like me and consulted me about expanding product sales channels and promoting for free of charge. In addition, at the tasting party at the Pacific Islanders Club Meeting and the "Pacific Marche" at the Pacific Culture Arts Festival in Yokohama, we also had opportunities to conduct a face-to-face PR. We hope that PIC will continue to stimulate activities of private small-and-medium-sized businesses relating with island countries to generate profits.
information on Genèse and its products:
Website:www.genesecafe.com
Facebook: https://www.facebook.com/genesecafe/
Instagram:https://www.instagram.com/genesecafe/
Products available in Japan on PIC's website:https://pic.or.jp/pi_home_products/5544/