The 22nd Japan International Seafood Show was held at Tokyo Big Sight from September 30(Wednesday) to October 2(Friday). In the context of Covid-19 pandemic, some people cannot travel to Japan while others refrain from travelling or setting up booths to avoid the three Cs. (Closed space, Crowded places, and Close contact settings). The organizers created the site for online business meeting "e-Seafood Show", the portal site on Official Home Page of "Sea Food Show". The "e-Seafood Show" offers information of product details, brochures and image as well as offering query function to make it possible having business meeting with interested buyers.
"e-seafood show" portal site:
https://www.seafood-show.com/japan/exhibitors/en.php
PIC also uses this opportunity as an effective way to promote Pacific Islands fishery companies and their informations have been already posted on the website, which will be found until March 31, 2021.
●TSUKIJI FISH MARKET Inc. 
https://www.seafood-show.com/japan/exhibitors/index.php?jb=exhibit&uid=c4apqi6ndu
●SEA QUEST (FIJI) PTE LIMITED 
https://www.seafood-show.com/japan/exhibitors/index.php?jb=exhibit&uid=jx5502oyxq
●MAJESTIC SEAFOOD CORPORATION LTD.(PNG)
https://www.seafood-show.com/japan/exhibitors/index.php?jb=exhibit&uid=2v4r9db0ga
●Luen Thai Fishing Venture Ltd. (Marshall Island, Samoa, FSM)
https://www.seafood-show.com/japan/exhibitors/index.php?jb=exhibit&uid=t3mvk7e75t
●Naceva Fish Exports Ltd (Fiji)
https://www.seafood-show.com/japan/exhibitors/index.php?jb=exhibit&uid=t13zrlakps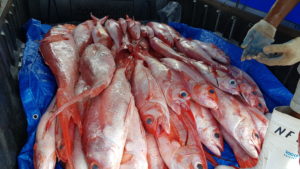 Image: Naceva Fish Exports Ltd (Fiji)