On Saturday,7th of December, the public lecture of Meiji University Liberty Academy for the Fall Semester 2019 titled "The Pacific Islands' Waste Problems and the role of Japan" (the collaborating lecture with PIC) was held at Academy Common of the Meiji University's Surugadai Campus. Mr. Shiro Amano, JICA Adviser for Waste Management and President of Inspirare Academy of International Development gave a lecture attended by about 20 audiences.
Mr. Amano explained about issues surrounding waste problems of Pacific Islands Countries followed by the introduction of innovative characteristics of J-PRISM project (※) on which JICA has been making an continued effort. Mr. Amano also showed the video clips of those countries to explain about waste management from various viewpoints such as composting of food remnants and rising awareness of community people through environmental education.
The audience's strong interest was evident in their many enthusiastic questions after the lecture and many of them actively exchanged their views.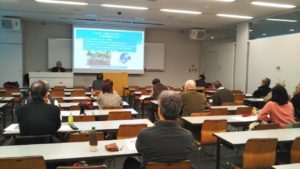 (※) J-PRISM(Japanese Technical Cooperation Project for Promotion of Regional Initiative on Solid Waste Management in Pacific Island Countries):JICA's wide-area project for Pacific Islands, aiming to independence and growth of waste management in the area by capacity building such as human resources and institutional improvements.