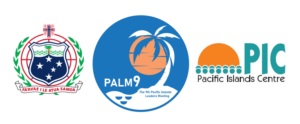 PIC presents online seminar
"Pacific Islands Journey" ~Independent State of Samoa~
The PIC in collaboration with the Embassy of the Independent State of Samoa in Japan will host an online seminar titled "Pacific Islands Journey – The Independent State of Samoa" on 18th November 2021.
The Independent State of Samoa is located in the South Pacific region and consists of four inhabited volcanic islands. The two main islands are Upolu, where the capital Apia is located, and Savaii.  Samoa's culture is based on the 'fa'asamoa' or Samoan way of life and is key to Samoa's unique traditions, culture, food and customs. The economy overall has sustained growth over the years however, experienced significant impacts from COVID-19 pandemic especially due to restrictions in international travel and trade. Key domestic sectors are services, tourism, agriculture and fisheries. 
Building on Japan and Samoa's strong bilateral relations and the PALM framework, the objective of the online seminar is to promote tourism, trade and investment opportunities in Samoa through connecting businesses.
This seminar has been certified as a commemorative project for the 9th Pacific Islands Leaders Meeting (PALM9).
The outline of the seminar is as follows. We look forward to your participation.
Seminar outline:
Date:

18 November 2021 (THR)

Time:   
11:00-12:15 

(JPN time) / 15:00-16:15 (Samoa time)

Format:

Online seminar (ZOOM)

Organized by:
Pacific Islands Centre (PIC)
Supported by:

Embassy of the Independent State of Samoa in Japan

Language:
English / Japanese (No interpreter)
Participation:   
Free of charge
Registration:

To join the seminar, register from here

Application deadline: 10:00 AM (JPN Time) on 18 November 2021
Program (JPN time)
11:00-11:05

Opening remarks (Language: English)
HE Mrs. Faalavaau Perina Jacqueline SILA-TUALAULELEI
Ambassador Extraordinary and Plenipotentiary of the Independent State of Samoa to Japan

11:05-11:20

"Country Brief" (Language: Japanese)
Dr. Takehiro Kurosaki
Tokai University

11:20-11:35

"Trade and Investment Opportunities in Samoa" (Language: English)

Ms. Toleafoa Nella Tavita-Levy, ACEO Trade, Ministry of Foreign Affairs and Trade (MFAT)

Ms. Fiu Jacinta Malie Matulino, ACEO Investment Promotion and Industry Development, Ministry of Commerce, Industry and Labour (MCIL).

(Short movie will be on air)

11:35-11:50

Introduction of Samoan products (Language: English)

●Taro: Mr. Asuao Kirifi Pouono, National Coordinator, PHAMA Plus
●Vanilla beans: Ms. Shelley C Burich, Managing Director at Vaoala Vanilla
●Cacao – Mr. Nathan Wilson, Manager, Wilex Koko

11:50-12:05

Q & A
(participants can send their Qs if any by pressing Q&A bottom at the Zoom screen)(Due to the time limitation, we can't provide whole answer, however PIC will gather all Qs and place all answers on the PIC website after the seminar)

12:05      

Closing (Language: Japanese)
Mr. Ryuzo Saito, Director, Pacific Islands Centre